Why power wash your business? Because having a clean and well-maintained property is important to your customers, so it should be important to you too. Fact: More than half of consumers reported having avoided a business altogether just because it looked dirty on the outside. (Source) Presentation is everything, and if any of your customers are walking the other way just because of a dirty sidewalk or storefront, call OFF THE WALL .
When your business is in need of a thorough cleaning, it's time to bring in the power washing experts. We specialize in commercial power washing and have been keeping businesses clean all over New England since 1985. We have the expertise and equipment to take on any job. Our team can remove dirt, grime, gum, gunk, funk, graffiti, and pollution from nearly any surface — leaving your business looking like new. Contact OFF THE WALL today and we'll provide a free estimate for power washing services.
"Fast, professional, and they provide quality service at a great price."

City of Waterbury Housing Authority
As a rule in business: If your customers might see it — then it should be clean. We have the attention to detail to make sure nothing gets missed. When you want it done right, and you need it done right now, call OFF THE WALL . Our business is making sure your business looks good. Check out our Top 10 Reasons to Hire a Commercial Power Washer.
Power wash any part of your business
Apartment/condo buildings
Banks
Churches
College campuses
Drive-thrus
Fleet vehicles
Gas stations
Office buildings
Parking lots and parking garages
Restaurants and equipment
Retaining walls
Sidewalks
Storefronts
Decades of experience power washing CT and beyond
Power washing is about more than just high-pressure washing. We don't simply buy a pressure washing system and point it at the grime. Power washing is all about technique — it's about knowing just how to apply 250 degree water at over 3500 psi to remove years of dirt, grime, and neglect and reveal the original surface beneath without a scratch. Your brother-in-law may have a pressure washer sitting in his garage, but we have a state-of-the-art, self-contained power washing system and years of experience and know-how behind the nozzle. We've seen it all, and we've cleaned it all — from dirt and grime in places you wouldn't think possible, to graffiti that would make your momma blush.
"Not only are Joe and his team extremely diligent and professional, but the garage has never looked this good."

Laz Parking Management
Environmentally friendly power washing in CT
Unlike other companies who only recover water and transport offsite, we also filter and reuse — allowing us to be fully EPA compliant and conserve our most precious resource — water. We are fully licensed (CT Li.# 0626878) and insured. All our work is fully compliant with all EPA and DEEP regulations.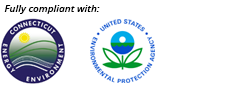 We are members of or affiliated with:
Connecticut Chapter of the National Association of Housing and Redevelopment Officials
Connecticut School Building And Ground Association
Connecticut Recreation And Parks Association
Contact us today!