Cleaning your home with the power of water
You wouldn't wash your hands with cold water — don't wash your house with cold water either. Our water is heated up to 250 degrees to maximize cleaning power. Our system is strong enough to remove dirt, grime, mold, and mildew, but soft enough not to damage the surfaces below. Our power washing system is perfect for cleaning all areas of your house and property:
Decks
Driveways
Fences
Garages
Gutters
Mold And Mildew
Patios
Retaining Walls
Siding
Sidewalks
Walkways
We have decades of power washing experience
Power washing is about more than just high-pressure washing. We don't simply buy a pressure washing system and point it at the grime. Power washing is all about technique — it's about knowing just how to apply 250 degree water at over 3500 psi to remove years of dirt, grime, and neglect and reveal the original surface beneath without a scratch. Your brother-in-law may have a pressure washer sitting in his garage, but we have a state-of-the-art, self-contained power washing system and years of experience and know-how behind the nozzle.
Have well water?
Not a problem! Our self-contained power washing system carries more than 500 gallons so your well water is safe. We also capture and filter the water we use, so you don't have to worry about contaminating your ground water. We are fully compliant with all EPA and DEEP regulations and we are fully licensed (CT Li.# 0626878) and insured.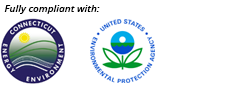 Contact us today!