Since our inception, we have been dedicated to the continual research and development of power washing and graffiti removal systems. Combatting age-old problems with the latest technology.
Our cleaning units, trucks, etc., are self-contained, carrying all the necessary equipment and materials for the cleaning operation. We arrive on-site carrying over 500 gallons of water and all the equipment necessary to get the job done right. Our system involves high-pressure cleaning at 3500 PSI and up to 250 degrees — enough to tackle even the toughest commercial power washing and residential power washing jobs. Our other services include trash chute cleaning and graffiti removal.
Power washing responsibly
Unlike other companies who only recover water and transport offsite, we also filter and reuse — allowing us to be fully EPA compliant while conserves our most precious resource — water. We are fully licensed (CT Li.# 0626878) and insured. All our work is fully compliant with all EPA and DEEP regulations.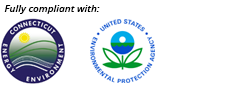 Contact us today!